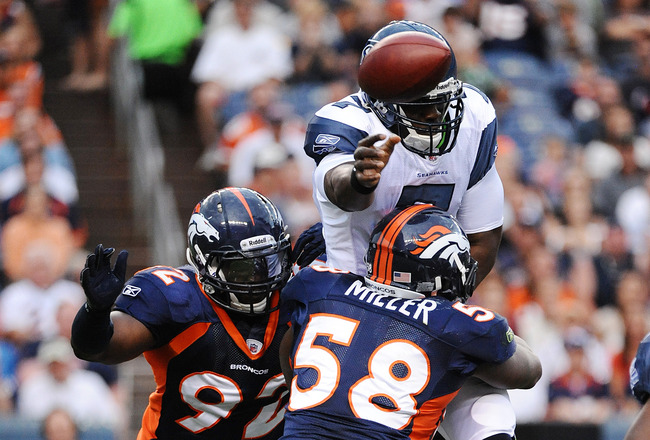 Von Miller, 2nd overall pick in the 2011 NFL Draft is going to drastically change the way people think about the Denver Broncos defense this year.  To start, lets rattle off just some of his highlights and awards from Texas A&M.
As a freshman in 2007, Miller was named Freshman All-Big 12 by Sporting News.
In 2009, Miller switched to the hybrid defensive end/ linebacker position and was named to the first team All-Big 12 for defensive end and was also named first team All-American by Sporting News and Sports Illustrated after leading the nation in sacks with 17, and ranking fourth in the nation recording 21 tackles for a loss.
In 2010 Miller switched to outside linebacker and even after being out with an ankle injury, tallied 10.5 sacks and 17.5 tackles for a loss.  2010 saw Miller take home his second, first team All-Big 12, he received first team All-American awards from multiple organizations.
At less than 6-3 (6025) and 246 pounds, people say that Von Miller looks too small to be effective…sound like anyone else you know…maybe Elvis Dumervil?
Miller will be playing strongside linebacker for the Broncos but I think we will see him in a 3-point stance as well this season.
So far in the preseason, Miller has 9 tackles and 3 sacks, but don't let the numbers fool you, it seems like every play he is in, he is either causing the QB to rush throws or he is flushing him out of the pocket where Miller's teammates are waiting for him.
What I saw in the week 3 preseason game was an example of just how effective Miller will be all year.  Throw Elvis Dumervil into the mix and Denver is going to have a defense that opposing QBs wont want to play against.  Miller is going to immediately be a terror, and is my pick to win 2011 Defensive Rookie of the Year, and to challenge the NFL Rookie sack record.
Broncos Gab Newsletter
Sign up to receive our Broncos Gab newsletter, and keep up to date with all the latest Denver Broncos news.